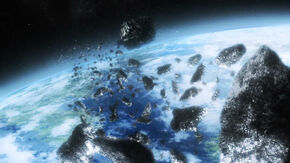 Earth (地球, Chikyū?) is a planet featured in the ALDNOAH.ZERO television series. It is the original home world of humanity, including the Martians and is ruled by the United Earth (UE) government.
Those born on Earth are derogatorily called Terrans (地球人, Chikyūjin?) and Old Humanity by Martians.
History
Before the wars began, the United Earth government was formed after Vers developed on Mars.
First Earth-Mars War
Vers would try to invade Earth and easily overpowered the Earth forces with advanced Aldnoah-powered Kataphrakts. However, the destruction of the Hypergate ended up damaging the Vers forces and gave Earth more leverage.
Second Earth-Mars War
For 15 years, relationships between the two planets were stable. One day the Princess of Vers Asseylum Vers Allusia would go out to Earth to establish peaceful relationships; however, this plan would backfire.
Gallery
Trivia