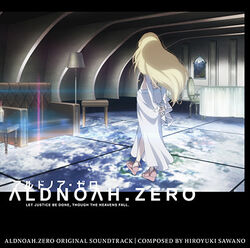 ALDNOAH.ZERO Original Soundtrack is a soundtrack album containing the music of ALDNOAH.ZERO.
Track Listing
#
Title
Notes
1
No differences
2
AZPV
"AZ" stands for "ALDNOAH.ZERO", while the PV stands for "Promotional Video". The title stands for "ALDNOAH ZERO Promotional Video", which means that this song was used in the promotion video.
3
A-0picturez
"A-0" can be transcribed into "ALDNOAH.ZERO"
The title also references "A-1 Pictures", the animation studio producing the anime series.
4
MKAlieZ
aLIEz cover by Mika Kobayashi
5
2零14zero91零
With "零" stands as "0", it will result "2014-09-10", the release date of the soundtrack album and the ending themes single.
6
アZ-Kat
With "ア" stands as "A" and "Kat" stands for "Kataphrak", the title can means "AZ-Kataphrak"
7
悲scene
Translated as "Sad scene" (from 悲しい)
8
AD2014-7.5/7.9-零・A
2014 07-05 / 07-09 = ALDONAH.ZERO's air dates on Tokyo MX and ABC respectively.
9
AL℃-@
Read as "Allusia" or "Aldnoah".
10
The Call to Arms
11
十61yard
Read as "Troyard".
12
FIRE★
Read as "Fire Star", which is the literal meaning of "Mars" in Japanese (火星).
13
R零B零T
With "零" stands as a play for "0" and "O", the title can be read as "ROBOT".
14
SiTE-n0w1
Read as "Site update" (from ナウい).
15
al-door0
Read as "ALDNOAH.ZERO" (from アルドアーゼロ).
16
Ver$
Read as "Vers".
17
aズ-17歩
Read as "AZ-Inaho".
18
Ch19ヲFIRE★
Translated as "Reinforcements to the Earth" (地球を加勢 not 火星).
19
AcyOrt
Anagram of "Troyca", the animation studio that produces the anime series.
20
BRE@TH//LESS
Read as "Breathless".
Notes
Music Staff
All music produced by Hiroyuki Sawano
Co-Produced & directed by Yasushi Horiguchi (Legendoor)
Recording, Mixing Engineer & Protools Operator by Mitsunori Aizawa (SIGN SOUND)
Mastering Engineer by Machiko Suzue
Recorded by Studio Sound Valley, Sound City Studio
Mixed by Studio Sound Valley
Mastered by Sony Music Studios Tokyo
Musicians
Drums: Yu "Masshoi" Yamauchi
Bass: Toshino Tanabe
Guitars: Hiroshi Iimuro, Harutoshi Ito
Strings: Daisensei Muroya Strings
Horn: Otohiku Fujita, Takato Saijo, Yasushi Katsumata, Maro Abe, Jyo Kishigami, Kenji Yamauchi, Satoshi Tsukada
Trumpet: Shiro Sasaki
Vocal: Mika Kobayashi, Aimee Blackschleger, mpi, Cyua
Lyrics: mpi, Rie, cAnON
Piano, Keyboard & All Instruments: Hiroyuki Sawano
References
External Links
Community content is available under
CC-BY-SA
unless otherwise noted.